Products - Chemical wet bench
MEMS & Semi Conductor Process.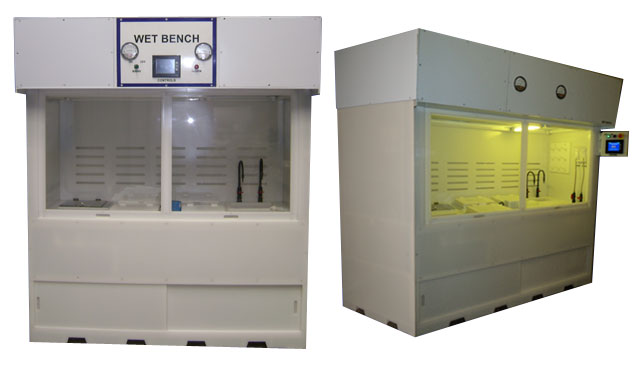 Technical Specification
Vertical laminar flow hood of dimensions 2000 (L) X 1000(W) X 2500 (H). All units are in mm. Working height 900 mm. Longer modular design wet benches are also custom built.

Each Filter/Fan Unit (FFU) will generate Min 650 CFM of air. Blower rated for continuous operation With OLR, noise : 650 dBA and filter type will be 99.99% HEPA.

Wet processing station will fit within flow hood. Entire structure is made with 12 mm natural PP with reinforcement.

The MOC of laminar flow hood is stress relieved fire retardant, white polypropylene material of min10 mm thickness.

Exhaust port will be available at the rear end of the bench.

All the process bath controls on overhead of the wet bench/or on side. The operating power spec is 220 V AC, 50HZ.

Illumination of switches will be fluorescent in nature.

Access shields will be an Acrylic/Clear PVC Counterweighed front shields that could be Raised and lowered for operator safety and control laminar air flow. Hatch back type shields are also available.

The bench will consist of storage cabinet with dual sliding polypropylene sliding doors.
Lines manufactured and supplied by us
Wet Bench for MEMS fabrication R &D Dighi, Pune.
Wet Bench for Semi Conductor Process at SITAR, Bangalore.
Electroless & Electrolytic Gold Plating System for SAMEER – Kolkata Centre.
Fully Automatic PLC Plating System for Vijay Metal Finishers, Bangalore.
Immersion Tin line for Jagath RF Products. Gandhinagar
Photo Resist Stripping line for Hirel Lids, UK.
Fully Auto Copper & Tin Plating Line at American Standard Circuits Inc, Chicago USA.
Fully Automatic nickel plating plant at ITI LTD, Bangalore.
Fully Automatic Copper and Tin plating plant at Fine Line Circuits co, Vadodara.
Fully Automatic Cadmium plating plant at Amphenol, Bangalore.
Fully Automatic Nickel Plating Plant at Amphenol, Bangalore
Special Plating Line at ECIL, Hyderabad.
Gold and Rhodium plating lines at BEL, Ghaziabad
Copper and Tin Plating lines – 3 no's to Harare Industrial Research Institute. Zimbabwe.
Desmear-DMF and Pattern plating lines to MELCOM – Lebanon
Develop Etch Strip Line for PDP Panels at Videocon, Italy.
As we are in the Manufacturing activity of Wet process machineries and Plating lines since last 12 years we have all the required skill, design and capability to manufacture Wet Benches & Fully Automatic Wet Process Lines for Semiconductor, MEMS and Solar PV Cell & Wafer process.