Products - WJ-DR Series Electronic Professional Roll to Roll Screen Printing Machine
Shenzhen Screen - Star Printing Machinery Co., Ltd.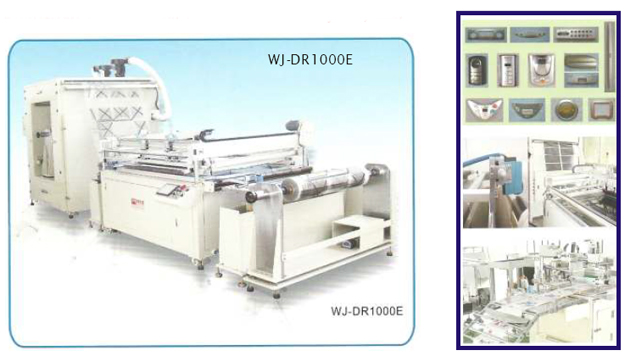 Model
Max.
Printing Size
Max.
Plate Size
Substrate
Thickness
WJ -DR2030D
200 x 300
550 x 650
0.013~0.5
WJ -DR3050D
300 x 500
650 x 850
0.018~0.5
WJ -DR5070D
500 x 700
900 x 1000
0.018~0.2
WJ -DR1000E
1000 x 1200
1400 x 1500
0.018~0.1
Design for the electronic material printing of roll to roll continuous screen printing. Applied to high precision automatic continuous screen printing in all kinds of rolled materials such as film, membrane, non-woven fab eics, self adhesive labels etc..
Japanese servo system, German SEW high precision reduction box, German sensor.
Devices including auto feeding, dust removing printing, and out feed units controlled by servo system.
Precision input & output, printing registration precision +/-0.05mm.
UV, IR or both UV/IR combination drying system.